Availability of a new SilverSol Tooth Gel has just been announced.  What great news for those of us who are dentally challenged, and everyone else!  With this product, one is able to brush on the go and not worry about rinsing or swallowing our gel.   Our SilverSol Technology and other ingredients in this tooth gel have been proven safe in ingestion studies.  Not so with traditional flouride toothpastes.
Many people aren't aware of the issues with fluoride.  As more studies are done on fluoride, more adverse effects are being uncovered.  Fluoride is a big question mark in the health industry, and many in the natural wellness industries have spoken out about it.  Here is just one quote attributed to www.globalhealingcenter.com – many more can be found.
"Fluoride is one of the most toxic substances known to man, yet based on its inclusion in virtually every brand of toothpaste, the American Dental Association believes it's okay to use fluoride for preventative dental care. Other products, such as bottled water, infant formulas, and even vitamin supplements, now contain fluoride!

In 2002, nearly 90% of the U.S. population was supplied water via public water systems, and around 67% of that number received fluoridated water. This occurred in spite of the fact, "No statistically significant differences were found in the decay rates of permanent teeth or the percentages of decay-free children in the fluoridated, non-fluoridated, and partially fluoridated areas."

Material Safety Data Sheets (MSDS) typically label sodium fluoride as "…toxic by ingestion, inhalation and skin contact" and that PPE (personal protection equipment) for handling should include safety glasses and gloves. Fluorides are more toxic than lead and only slightly less poisonous than arsenic… and these toxins can enter your body from brushing your teeth or rinsing with many popular dental care products!"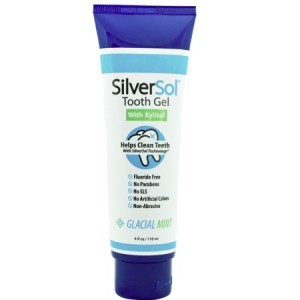 We are more than excited about being able to provide SilverSol Tooth Gel to our customers.  The testimonies are already reaching our ears.  One gentleman involved in the early trials said he brushed his teeth with it at night before bed, and woke up in the morning with his mouth feeling as fresh and clean as when he went to bed… Imagine that!
Our stocking order was placed as soon as we heard this new Tooth Gel was available, and we expect to have product on hand in about a week.  Visit our product page to place your order.